Miner
Oil on canvas 24″x30″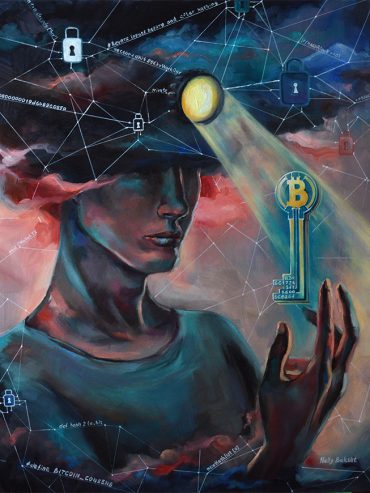 The original of this artwork was sold at Bitcoin 2019 to a happy collector in Toronto, Canada.
The story of Bitcoin creation is full of mystery. The idea behind this painting is to show the complex mix of emotions of the Bitcoin very first miner – Satoshi Nakomoto.
Those "mysterious" numbers and symbols, in fact, represent the hash of Bitcoin genesis block, and code fragments by SN from BTC 2009 repository.
This artwork has attended the following event:
Bitcoin 2019 
After 10 years of evolution, hacks, scams, civil war and breakthroughs, it's time to think about where Bitcoin will go in the next decade. This will be the return of Bitcoin's annual conference, an event to push innovation forward, collaborate with old and new friends and reignite the community of permissionless value.