---
Malta AI & Blockchain Summit
Record amount raised for AIBC Charity Auction
High bids bring in 26k for philanthropic evening
Following a lavish awards ceremony, hosted by James Bowater from City AM and SiGMA Group's own Jessica Walker, the AIBC charity auction kicked off with 2 high profile items from the guest of honour Akon. Up first was the unique opportunity to win a chance to name a street in a first-of-its-kind crypto city. The project sits on 2000 sq acres gifted from Senegalese President Macky Sall and is conveniently situated just 5 minutes from a new international airport. Close to the coast, the city is also only a short drive from Dakar.
Containing everything from residential buildings, retail, parks, a sports stadium, universities and schools, the space blends leading smart city planning designs with a blank canvas for cryptonising our daily human and business exchanges – moving us towards inventing a radical new way of existence.
Following an exciting round of bidding the chance to take part in the official Village Lighting Ceremony in Africa also went under the hammer. Set in a location that has just received solar lights and power from Akon Lighting Africa, the prize will see the winning bidder and their guest will be flown to Africa to share in this special occasion as the solar-powered lights are switched on and the village comes to life after dark.
Other items included a unique canvas featuring an abstract collaboration between the Maltese artist Mark Mallia and the AI artist entity Uma, the Universal Machine Artist. Each abstract in this series is from Mark's training of the artificial intelligence, where the AI is learning how to compose a beautiful abstract work of art, together with the techniques used to paint it on canvas. Each painting is one that will never be repeated again and is a unique collectible representing the early age of Artificial Intelligence-Human Collaboration Art.
Equally interesting was a painting called The Halvening, a contribution from well known German graffiti artist Reuven Schockner. Made with 24k gold ink and fiat banknotes, the painting offered an interesting take on the crypto vs fiat debate. As the artist described it, it is 'a beautiful piece of art from Satoshi Nakamoto, a vision for a deflationary, digitally-scarce cryptoasset, which only leaves me room for a painting'.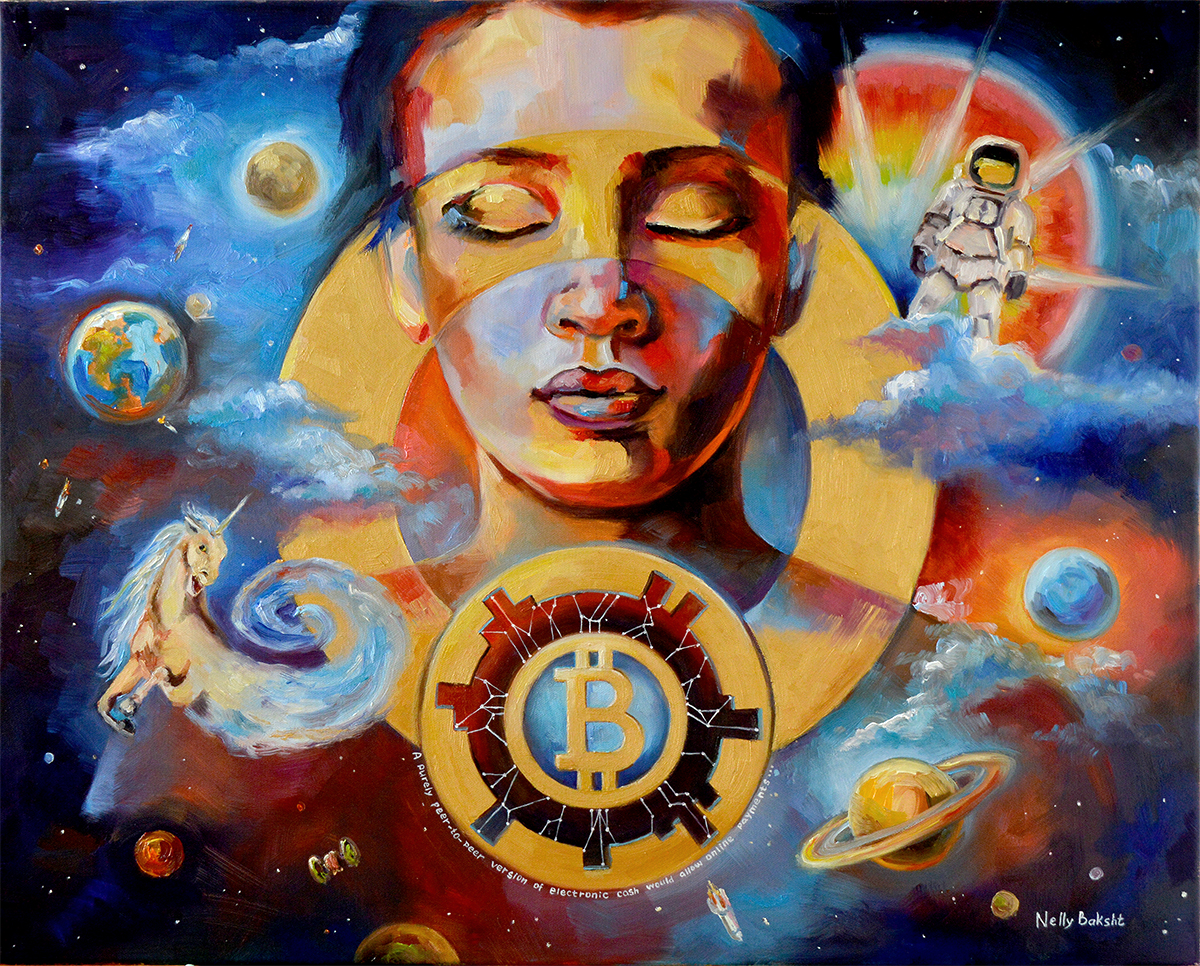 An abstract collaboration between the Maltese artist Mark Mallia and the AI artist entity Uma, the Universal Machine Artist.
Last but not least was a piece from celebrated artist Nelly Baksht, who also featured in the last auction held for the Malta AIBC Awards. Her piece, entitled Absolute Start is oil on canvas and tells the story of Bitcoin's origin. The artwork comes with Certificate of Authenticity verified on Bitcoin blockchain.
In total the auction raised €26,000 for charitable activities, beating last year's sum by a considerable amount.
Audiences were also treated to a heartfelt speech from Akon, where he shared his source of inspiration and motivation in life, saying: "It was experiencing the pain that drove me to become the person I am today and why I do what I do. Every blessing that's coming to me comes from God."
The Grammy Award winning singer was in Malta to discuss his up coming crypto projects, later participating in two panels at the AIBC summit on emerging economies where he discussed his vision for Africa.
---