Absolute Start
Oil on canvas 30″x24″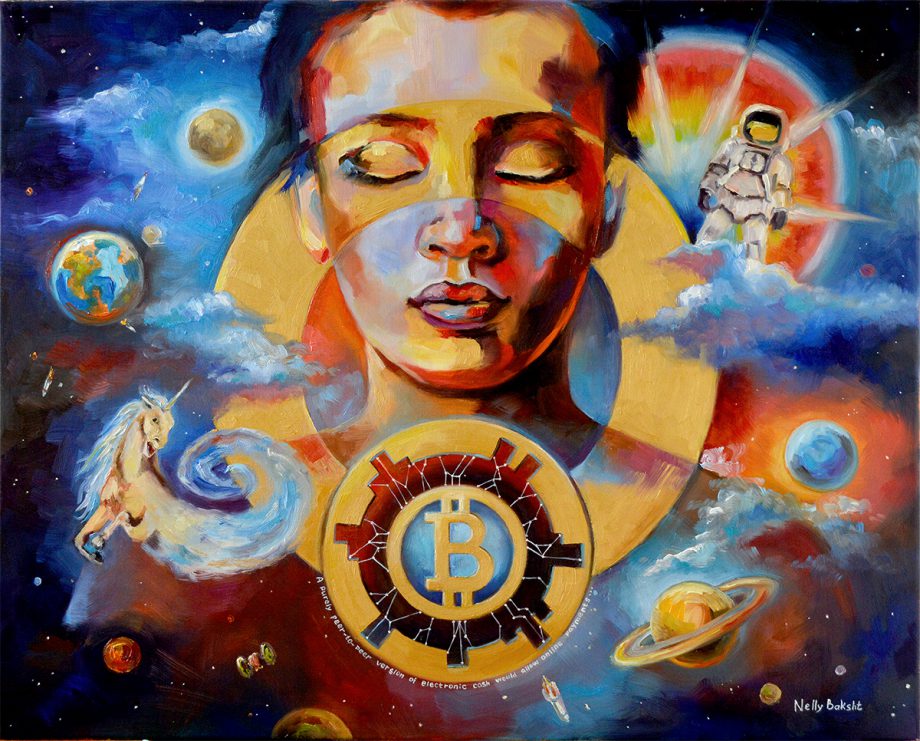 The original of this artwork has been auctioned off at the Malta Blockchain Summit
In 2009 a new mysterious entity was created by an even more mysterious owner. Nobody knew if it would work. Only a select few at the time thought that the internet would be capable of generating its won money. Bitcoin was born. This artwork tells the mysterious story of its origin.
The beginning of the first sentence of the Bitcoin whitepaper can be found under the disc in the artwork. The rest is the sentence is as follows: "… to be sent directly from one party to another without going through a financial institution." After the 2008 financial crisis, Satoshi Nakomoto saw the problem with all of our payments going through financial institutions instead of being peer to peer so he decided to propose a system of virtual currency that would allow us to bypass the financial institutions.
This artwork has been at the following events:
Auctioned off at Malta summit
Last but not least was a piece from celebrated artist Nelly Baksht, who also featured in the last auction held for the Malta AIBC Awards. Her piece, entitled Absolute Start is oil on canvas and tells the story of Bitcoin's origin. The artwork comes with Certificate of Authenticity verified on Bitcoin blockchain. In total the auction raised €26,000 for charitable activities, beating last year's sum by a considerable amount.
Futurist Conference
The Futurist Conference is the largest and most high profile blockchain event in Canada. It brings together over 2300 attendees from around the globe to discuss the future of technology including blockchain, artificial intelligence, and other emerging tech that will disrupt our future.